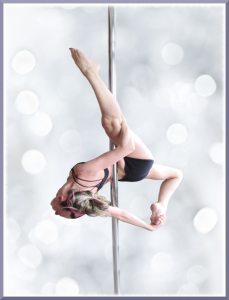 Belén Kamon has more than 12 years of experience in the fitness and health Industry. Her qualifications include personal training, pre-post natal specialist, sports and core training specialist, pole fitness instructor and educator, and nutritionist consultant. She is also a professional cook specialized in healthy eating.
With a background on engineering and sciences, she is a canfitpro fitness educator, developing and teaching fitness and health courses to other professionals.
She has been practicing  and studying all aspects of Pole Fitness since 2006, soon developing her own pole fitness education training programs and opening a studio. She participated as a board member for the Canadian Pole Fitness Association, for several years.
She is an avid traveller and continues to work with pole fitness athletes from all over the world through long distance education methods and private sessions. She is a course developer for Gravity Vertical Education, an online school oriented to pole fitness athletes and fitness professionals looking to expand their curriculums and knowledge. She offers both, pole fitness certifications courses and continuing education workshops online. Her programs have been approved by CPFA, and canfitpro among others, tested and proven to be safe, comprehensive, effective and professional.
Belén's success relies on her ability to translate her extensive knowledge into an enjoyable, energizing, but yet challenging exercise class. With a strong focus on safe exercise and teaching techniques, she generally prefers functional training methods that use the body as resistance, developing balance and coordination skills such as Pole Fitness.
Belén is truly passionate about what she does, always finding time in her life to share all of her knowledge, dedication and love for Pole, with others. She hopes her education programs can further contribute in gaining legitimacy and recognition of Pole Fitness, within the sport and fitness industry, world wide.
www.gravityverticaleducation.com