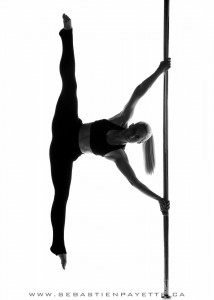 Michelle Cirullo is the owner and main instructor at Pink Fitness in Moncton. This will be her 4th experience judging a CPFA sanctioned event, and is very honored to be selected for the National judging panel.
She discovered pole fitness in 2008 while living in Orlando, Florida. Shortly there after she was exposed to the world of aerial arts and trained in hoop and silks with Anti-Gravity. She began teaching pole classes in 2009 where she emphasized form and safety and continues to do so with her students. She moved back to Canada in May 2010. She knew she could not live without these amazing aerial arts in her life and opened Pink in 2011.
Friendships and confidence building is the reason why she believes pole fitness is so popular and addictive. With no previous training in any form of dance or gymnastics, she wants to serve as inspiration that even pass the age of 30, that passion and determination will make you the dancer you want to be.