2019 CPFA
Regional Competition
Central
---
---
Join us at The Pole House in London, Ontario for the 2019 CPFA Central Regional Pole and Aerial Hoop Competition. This is a 2 day event, tickets will be sold separately for each day. Purchase your ticket online in advance for $25 or at the door the day of the event for $30. Tickets that have been purchased online will be available at the door under your name.
---
MASTERS
ENTRY
AMATEUR
SEMI-PRO
PRO
MEN'S
EXOTIC 1
EXOTIC 2
---

AERIAL HOOP 1
AERIAL HOOP 2
AERIAL HOOP DOUBLES
POLE ART
TROUPE
POLE DOUBLES
---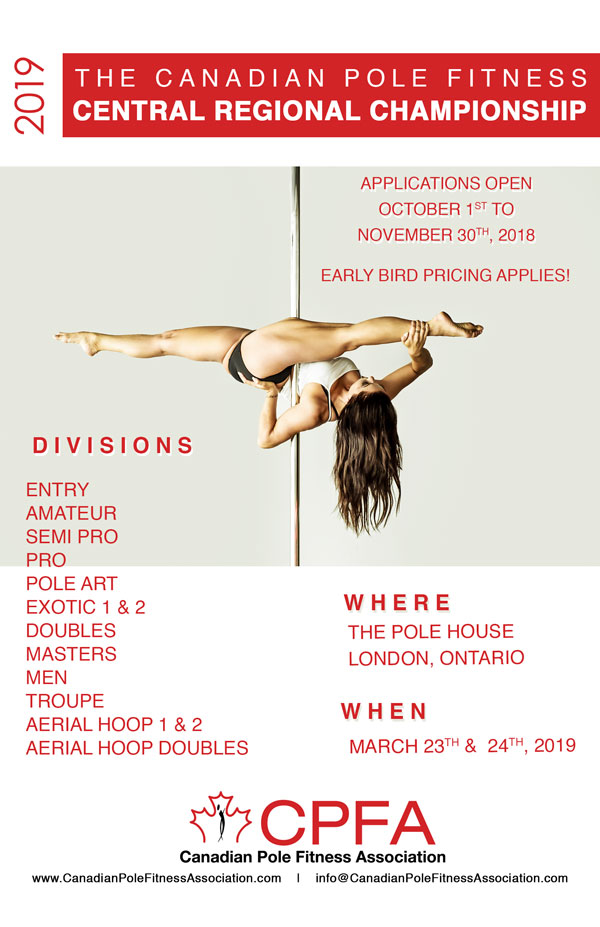 ---
APPLICATIONS ARE NOW CLOSED
Application Fees
AERIAL HOOP AND POLE
$99 Oct 1 - 14 *

EARLY BIRD PRICING

$125 Oct 15 - 28
$149 Oct 29 - Nov 11
$199 Nov 12 - 30
* There will be a nominal confirmation fee for the Canadian Pole Fitness Championships for all qualified winners from the regional competitions and the 2018 Toronto Pro SuperShow Pole and Aerial Hoop qualifiers. – $49
---
TECHNICAL SPECS
---
IMPORTANT INFO FOR COMPETITORS:
Stage dimensions and distance from poles is different at this competition than at nationals.
15ft x 12ft stage. 4.5ft from pole base to side of stage. Almost 6 ft from pole base to front of stage. Poles are 6 ft apart. Pole base to back of stage 6ft.
AERIAL HOOP COMPETITORS:
The hoop dimensions/specs are the same, however, there will be a 6 foot spanset directly choked to each of the hoops (whether it is for singles or doubles) and the hoop will be in front of the stage. The hoop will be approximately 5.5 to 6 feet from the floor to the bottom bar. There will be a 3 inch tumbling mat under the hoop on the floor under the hoop.  The hoops are taped with black hockey tape and the singles hoop weighs 10lbs
There will be approximately 9 feet distance from the stage to the rigging point , at least 6 feet to the front of the performance area and more than 5 feet on each side of the hoop.   
---