2019 CPFA
Regional Competition
Central
---
---
IMPORTANT INFO FOR COMPETITORS:
Stage dimensions and distance from poles is different at this competition than at nationals.
15ft x 12ft stage. 4.5ft from pole base to side of stage. Almost 6 ft from pole base to front of stage. Poles are 6 ft apart. Pole base to back of stage 6ft.
AERIAL HOOP COMPETITORS:
The hoop dimensions/specs are the same, however, there will be a 6 foot spanset directly choked to the each of the hoops and the hoop will be in front of the stage.
There will be approximately 9 feet distance from the stage to the rigging point , at least 6 feet to the front of the performance area and more than 5 feet on each side of the hoop.
---
---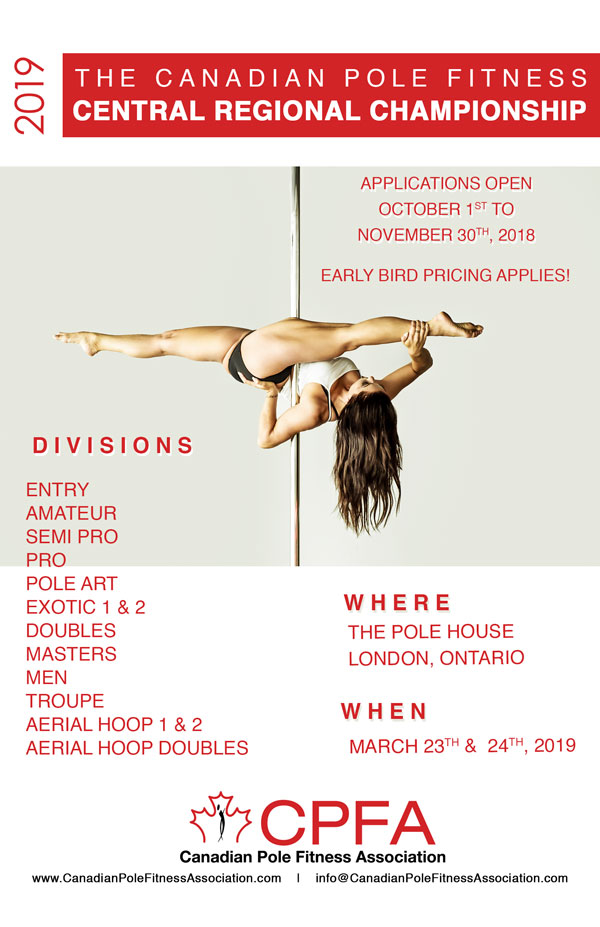 ---
APPLICATION FEES
AERIAL HOOP AND POLE
$99 Oct 1 - 14 *

EARLY BIRD PRICING

$125 Oct 15 - 28
$149 Oct 29 - Nov 11
$199 Nov 12 - 30
* There will be a nominal confirmation fee for the Canadian Pole Fitness Championships for all qualified winners from the regional competitions and the 2018 Toronto Pro SuperShow Pole and Aerial Hoop qualifiers. – $49
---
VENUE TECHNICAL SPECS
Coming soon!
---
---
COMPETITORS
Coming January 2019!
---